Ramsey Subaru is proud to announce that DealerRater has given us their 2018 Consumer Satisfaction Award! We've won the Consumer Satisfaction Award 4 years in a row because of our dedication to customer service.
We would like to first thank all of our customers who took the time to leave a review about their experience at our sales and service departments. Without their kind words and constructive criticism, we wouldn't know how well we're doing and where we need to improve.
In addition, a big thank you goes to the team here at Ramsey Subaru. They work day in and day out to give every customer who walks through our doors a positive experience where they feel they can trust us with all of their automotive needs.
How We Won the 2018 Consumer Satisfaction Award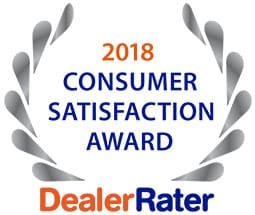 ?The winners of DealerRater's Consumer Satisfaction Award are the top 10% of U.S. franchise dealers based on their PowerScore. The PowerScore is calculated using a Bayesian algorithm that weighs the dealership's average DealerRater star rating & the total number of reviews written about the dealership during that calendar year.
The following requirements are also necessary to win the 2018 DealerRater Consumer Satisfaction Award:
Minimum of 25 reviews on DealerRater for the calendar year
Average minimum star rating of 4.0 on DealerRater, with 5.0 as the highest possible rating
At least one review on DealerRater per quarter during the calendar year
Must not have been blacklisted within the calendar year
What Our Customers Have to Say on DealerRater
Sales Department
I came into Ramsey Subaru knowing that I wanted a Forester, and didn't have a need for any crazy features. Alex [Petrushin] was quick and fair about evaluating my trade in and getting me set up with a test drive. Chris [Fuchs] was extremely knowledgeable about the ins and outs of the Forester, and left no question unanswered.

When it came to paying off the remainder on my previous car, Alex [Petrushin] and team took care of everything. The whole process only took a few hours, and I got exactly what I wanted. I felt like I was buying a car, not "being sold" a car as I've experience in the past. Highly recommend going directly to Ramsey Subaru.

-Eric Hill
Service Department
Clayton [Mitchell] the sales manager referred me to Ramsey Subaru's service. I had purchased an OEM auto start for my daughter's '14 Crosstrek & needed the install done. After reading about some poor sloppy work others had encounter by other dealers I can say without reservation, Al at the service department got the job done in a timely manner at a fair price.

I was honestly treated like family. This is our first Crosstrek & it certainly is well designed. I am considering another purchase & will definitely go to Ramsey Subaru. If you want all the right answers to your purchase/service questions, this group has it all!!!!

-Celeb2