The 2021 Subaru Love Promise Customer and Community Commitment Award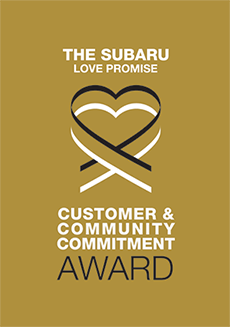 We've been nationally recognized for our dedication to our customers, our community, and the Subaru Love Promise.
We're honored to receive the 2021 Subaru Love Promise Customer and Community Commitment Award. This award nationally recognizes elite Subaru retailers who provide an exceptional customer experience at every interaction with Subaru. These retailers have also demonstrated an outstanding commitment to supporting passions and causes in their local communities in important areas such as the environment, community, health, education, and pets.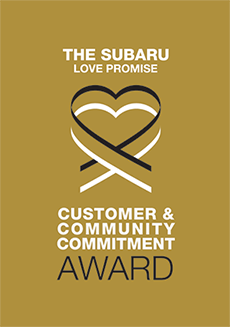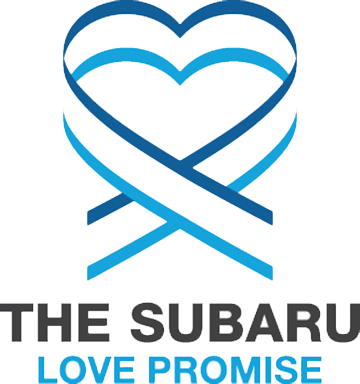 What is the Subaru Love Promise?
Subaru and our retailers believe in making the world a better place and the Subaru Love Promise is our vision of respecting all people. This is our commitment to show love and respect to our customers and to work to make a positive impact in the world.
How is Ramsey Subaru dedicated locally to the Love Promise?
Ramsey Subaru is part of the Ramsey Auto Group, one of the leading automotive retailers in New Jersey. With 12 brands spanning 8 locations on route 17 in the northern New Jersey, the Ramsey Auto Group offers a large selection of today's most popular new, used and certified pre-owned vehicles. Ramsey Auto Group dealerships have been honored with several outstanding achievements, such as the coveted Global NSSW Award, which honors dealerships that achieve and maintain the highest standards of performance in customer satisfaction globally. A staple in the community, Ramsey Auto Group has donated over $1 million in goods and services to local organizations and events, such as the Ramsey Police Dept, Ramsey Day, Ramsey Summer Concert Series, the Bergen Bike Tour, local food and clothing donations and more. The group has been supporting their family and friends in the town of Ramsey for years and in turn, the community continues to support Ramsey Auto Group.
The National Wildlife Foundation, Woodcliff Middle School
Leukemia & Lymphoma Society, Morristown Medical Center
Love Promise Stories from Ramsey Subaru
Subaru and Ramsey Subaru believe in making a positive impact on the communities in which we live and work. We uphold that belief through our Love Promise Community Commitment. Every month, we select inspiring stories from customers and partners from around our area who strive to support our collective commitment and feature them here
Thank you Ramsey Subaru for your support! - Avery H
At the end of last year, my husband and I walked into Ramsey Subaru to lease a new Crosstrek plug-in electric hybrid. In talking with the Sales Manager, Clayton Mantell, we wound up telling him about the charity we had founded – Maasai Girls Fund – which sends Kenyan girls to boarding school instead of getting married off to older men at age 11 or 12.We drove off in the Crosstrek, thinking that was the end of the story. Imagine our surprise when, a week later, we got a personal check from Clayton on behalf of Ramsey Subaru to Maasai Girls Fund – for $2000!! That's enough to send five of our girls to school for an entire year – complete with tuition, room and board, books and uniforms! And that wasn't the end of it – in 2021, Ramsey Subaru will be featuring a donation box and info sheets about Maasai Girls Fund at the reception desk in their showroom. That should encourage further donations. We are so grateful to Ramsey Subaru for encouraging this kind of charitable activity among its employees. And special thanks to Clayton Mantell for acting so decisively and generously. Avery Ann HartFounder/Co-president, Maasai Girls Fund
---
Thank you Ramsey Subaru for your support! - Clayton M
Dear Ramsey Subaru, Thank you for your continued support! Just wanted to share the story of Abby and Ruby. These gals are 11 year old bonded sisters who were with RBARI for over a year before adoption. These sweet rat terrier girls were surrendered when their elderly owner was no longer able to care for them. Abby is very sweet and outgoing, while Ruby is a bit more shy and relies on Abby for confidence. Being seniors and a pair, it was challenging to find a home for these gentle girls who were looking for a quiet retirement home to live out their golden years. Finally, this October, came the moment that Abby and Ruby had waited so long for! Their new mom came through the doors at RBARI, with thanks in part to Ramsey Subaru's October adoption event. Our community responded, as we shared that during the month of October, thanks to Ramsey Subaru, all adoptions had a double impact! Not only would families change the world for a homeless pet in need, but they would pay it forward and help save more lives! With thanks to Ramsey Subaru's commitment to loving pets, Abby and Ruby are doing GREAT! They have settled right into their new home, getting along with their new kitty friends, and are a pleasure for their new mom! Happy life Abby and Ruby, and thank you Ramsey Subaru for being such a special part of their journey to find their forever home. Thank you! Megan Brinster Executive Director Ramapo-Bergen Animal Refuge, Inc.
---
48 Hours of Tri State - ROBERT M
Dear Ramsey Subaru, I just wanted to say thank you for your generous donation for the 19th Annual 48hrs of Tristate Subaru Enthusiasts Charity Drive. This year with your help we have raised $42,000 and counting for Make-A-Wish. As always the money goes directly a long way in granting wishes for children between the age of 2 ½ and 18 facing life threatening diseases. Thank you, 48hrs of Tristate Sponsorship Committee
---
Ramsey Subaru - Lisa G
Community Impact: Ramsey SubaruEvery parent wants the best for their child whether that child is 2, 22, or 42. That driving need is what led Ramsey Subaru owner's Beth and Arthur Picciano to REED Academy, a private, non-profit school in Bergen County, New Jersey, for individuals with autism ages three to 21. Like so many other parents, they were desperate to find the right education for their young daughter.While their daughter graduated from REED Academy over a decade ago, Beth, Art, and the entire Ramsey Subaru team have remained a steadfast partner and an integral part of REED's DNA. "REED has given my family so much over the years, and early on I felt it was my job to give back," Beth has explained. "We are all part of this community, brought together because of a common goal—and each of us can contribute different things to keep the community strong and help it grow."New Jersey has the highest rates of autism in the country, with a staggering rate of 1 in 34.Through numerous initiatives, Ramsey Subaru has stepped up in support of REED and the autism community at large. In 2008, the team helped to launch Go the Distance for Autism, North Jersey's largest charity cycling event. Since its inception, the annual family-friendly event has raised over $7 million, which has benefitted four leading programs for individuals with autism (REED Academy among them). At REED, Go the Distance for Autism funds have gone directly to ensuring we have the latest communication-enabling technology for students, securing save transportation for students into the community, and providing life-saving swim instruction. Beyond their generous sponsorship, Ramsey has rallied the local community year-after-year to ride, donate and volunteer. Their support hasn't stopped there. As the 4th-time recipient of Subaru's Share the Love program, their donations have gone far in helping REED move beyond the school setting to support adults with autism. At age 21, public resources for this population virtually disappears. They're no longer eligible for state-funded education, and adult programs and services are few and far between. Without daily assistance, these young men and women can lose their acquired skills—from daily care habits like making their own lunch and getting dressed by themselves to crucial life skills like language. Support for this population is critical. In 2018, thanks to the generous support from Ramsey Subaru, REED launched is first day program offering clients pre-vocational and vocational training, volunteer and paid employment opportunities, community integration, peer mentoring and assistance with daily life skills.And this summer, our partnership has truly gone full circle as Beth and Art's daughter joined REED's college internship program! Thanks to the entire Ramsey Subaru team, and their unwavering commitment, we can continue to support individuals with autism throughout their lifetime so that they can learn, live, work and thrive in their communities.
---
Ramsey Subaru champions Pony Power Therapies - Kerry B
Ramsey Subaru has been a steadfast supporter of Pony Power Therapies, donating $15,000 to the organization in the past two years. Pony Power is a nonprofit organization in Mahwah, NJ that uses horses and an accessible farm to enhance the physical, social, and emotional well-being of children and adults in need of extra support. We provide therapeutic horseback riding lessons, horse-assisted learning, and nature-based activities to over 180 individuals a week, thanks to the generosity of our community partners, including Ramsey Subaru. Ramsey Subaru is one of our biggest supporters! They sponsor and participate in our 2 biggest fundraisers each year - our Horse Show & Community Fair and our Golf & Tennis Outing. We rely on these events to make up a significant part of our annual budget. The funds raised allow us to offer programs to a variety of people in the community, including, but not limited to: people with Autism Spectrum Disorder, children battling cancer, inner city girls experiencing mental health crises, teens with social anxiety, medically fragile children, folks with cerebral palsy, and adults with developmental disabilities. Thank you, Ramsey Subaru, for helping us use horses to help people!
---
Employees deliver warmth to Morristown Medical - michelle e
On June 4th, Subaru employees enjoyed visiting the patient art show at Morristown Medical and delivered blankets to those patients. The patient artists walked all of us through their projects and what they were feeling at the time when they made them. It was very special to be part of the art show.
---
Subaru and NWF Loves the Earth - Julia O
Our garden got off to a late start but it is flourishing! The school courtyard lacked the biodiversity necessary for a healthy habitat but with help of Ramsey Subaru and NWF we were able to plant native species that would draw pollinators. With pollinators on the way we also planted vegetables so that our special summer pre-school program could take advantage of those pollinators to grow healthful foods for themselves. We can't wait to get back in the fall to see how our garden grew! Thank you Ramsey Subaru and NWF.
---
LLS & Ramsey Subaru - Michelle E
Ramsey Subaru teamed up with LLS to deliver blankets, care cards and craft kids to patients at the Carol G. Simon Cancer Center at Morristown Medical Center on June 12th.The delivery was during a patient Art Show, facilitated by the Art Therapy program, where patients who created art work during therapy groups showcased their works to other patients.During this event, Joe from Ramsey Subaru, as well as LLS staff, handed out blankets and care cards to patients whose art was showcased as well as patients in the infusion waiting area.Craft kits were given to the Art Therapist who commented on how this donation would give her the chance to give art supplies out to her patients during group sessions and so they could continue to their art therapy at home.All patients were grateful for the blankets and care cards and several mentioned how much the inspirational messages on the care cards help keep them going.One patient said she would keep the care card in her car to look at as a reminder each day.One particular patient named Liz, who was diagnosed with AML in 2015 and attended the art show with her 5 yr old daughter Emma, has just reached one year in remission.She talked to the hospital reporter about how her entire focus has changed since her diagnosis.She used to think "I 'have to' do this or that" but now she thinks "I 'get to' do this or that.Liz gave Joe from Ramsey Subaru a very appreciative hug upon receiving her blanket and is grateful for supportive programs like this.
---
Ramsey NJ Subaru Donates $100,000 to Local Charity - Alison S
Ramsey Subaru, with the help of our customers, raised a grand total of $100,000 in charitable funds for Reed Academy during the 2015 Share the Love event. It is our firm belief that with the support of the community and REED's continued efforts in working with Autistic students, that real understanding and proven practices will pave the way a for brighter future. Ramsey Subaru is honored to support REED (Resources for Effective Educational Development) Academy; a Non-Profit Organization for Children with Autism. Since their inception in 2003, Reed Academy has focused on providing individualized, scientifically-based Applied Behavior Analysis Intervention for children aged 3 - 21.
---