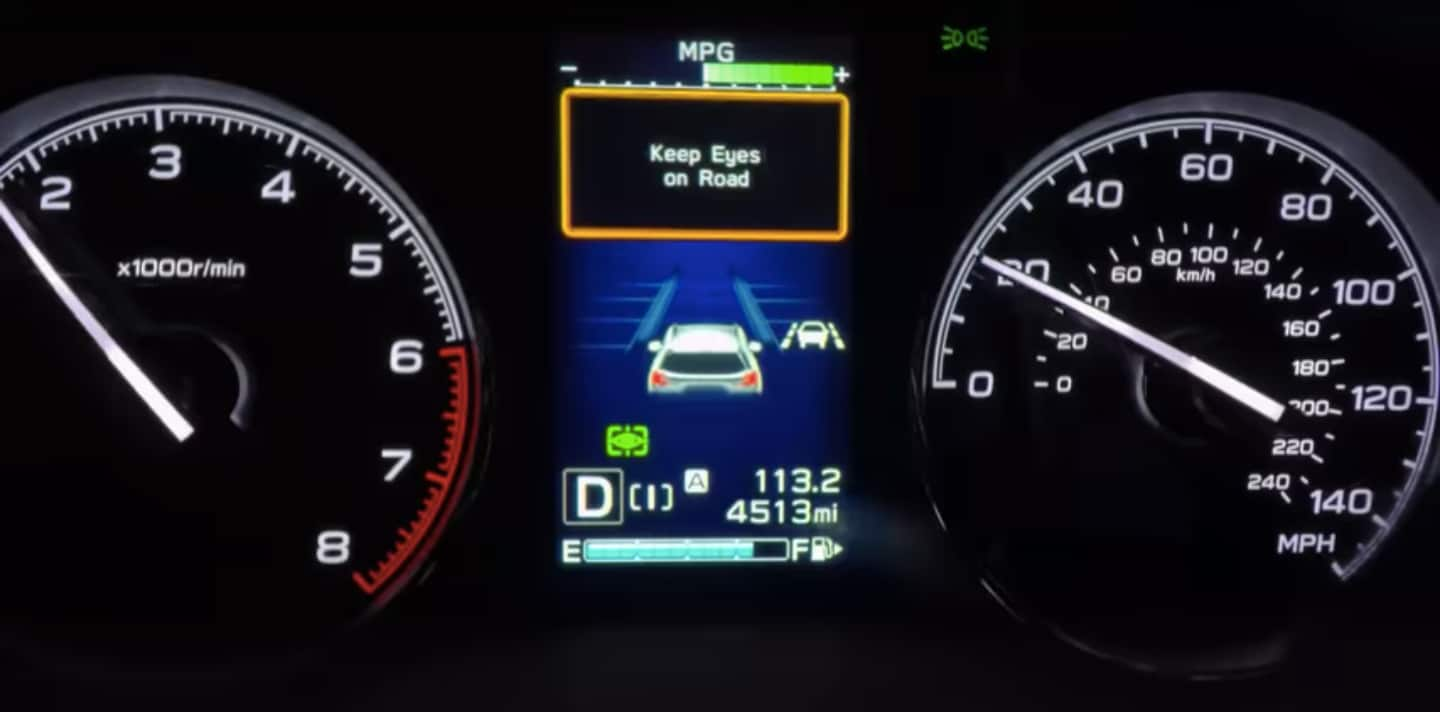 Whether it's a late-night drive where you're getting tired but need to get home or seeing why other cars are pulled off to the shoulder, there are plenty of reasons that you can get pre-occupied on the road and it could cause a life-threatening accident. That's where one of the Subaru's newest technologies comes in.
Subaru DriverFocus is a distraction mitigation system that senses when you're either distracted or fatigued behind the wheel based on the positioning of your eyes using an onboard camera. Sunglasses may interfere with the distraction mitigation system because of their reflective nature and this feature can be turned on and off using a button near the steering wheel.
The Tech Behind Subaru DriverFocus
You might be thinking, how can a machine tell if I'm looking at the road or not? The answer is simple: through facial recognition software, which works similarly to what's on the iPhone X with an emphasis on focusing on the positioning of your eyes.
That means it'll alert you with a chime when your eyes are off of the road for too long whether you're looking at someone getting pulled over It'll do the same if your eyes are closed for a prolonged period of time while behind the wheel.
Facial recognition settings can be made for up to 5 different drivers, so it can see how each individual behind the wheel sits and looks at the road, and will greet you based on seeing your face. To set up a profile for yourself, all you need to do is:
Go to the settings screen on the multifunction display and select "Driver Monitoring System"
Select "Register User"
Go to the number you want to register and select "Set" to begin the facial scan
Turn your head from shoulder to shoulder in a relaxed, fluid motion
Enter the driver name & icon you desire once you hear the tone & the screen changes
Subaru DriverFocus also remembers preferences for the following other aspects of the vehicle for each driver:
Driver's seat positioning
Climate control settings
Outside mirror positioning
Which Subaru Models Offer DriverFocus?
As of this blog post's publishing, DriverFocus is offered on the latest Subaru Forester and the upcoming Subaru Legacy. But we're sure other Subaru models will have this distraction mitigation system available as an option.
This feature works along with Subaru EyeSight driver assistance technology to help prevent fender benders and major auto collisions by warning you when you should be focused on the road. Things can happen in a matter of a half second that could cause serious injury on the road.
But Subaru DriverFocus can stop that from occurring. It has already been named the Best Safety Innovation for 2019 by the Automobile Journalists Association of Canada (AJAC) and the Most Innovative New Safety or Driving Aid by Edmunds, so contact Ramsey Subaru to learn even more about this technology and how you can get it in your next vehicle!