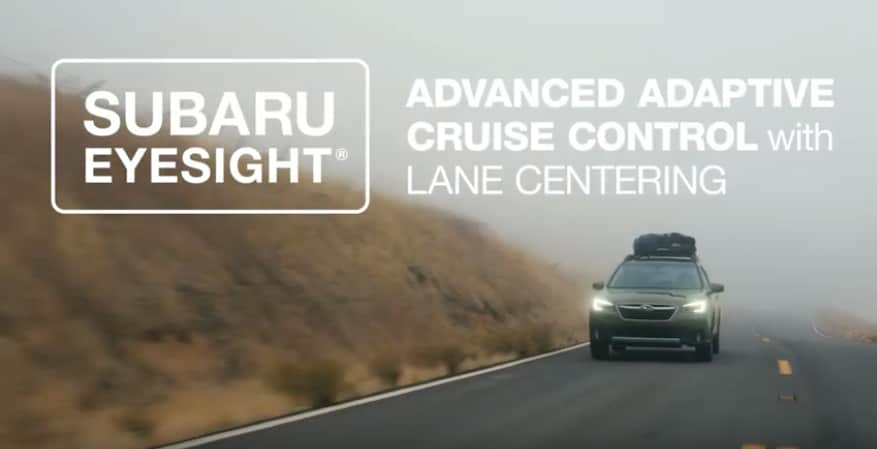 There are times when your drive starts to feel very long, even to the point where your legs start cramping up and you feel like your feet are on fire. There are also times where you're on your daily commute and it becomes so monotonous that driving just feels like a chore.
Either way, there's a technology that works to make that drive easier and less strenuous on your body: Subaru advanced adaptive cruise control. This feature is part of the Subaru EyeSight suite of driver-assistance technologies that also includes:
Lane keep assist
Lane sway warning
Pre-collision braking
Pre-collision throttle management
What Does Subaru Advanced Adaptive Cruise Control Do?
There are several functions that Subaru adaptive cruise control performs by watching the road via cameras located above the interior rearview mirror. It's a feature that's designed to make you work less while behind the wheel since the system will automatically adjust your speed to maintain a safe preset distance from the vehicle in front of you.
And all of this can be done without you needing to apply the brakes or the gas. No pedals? No problem! All you'll need to worry about are keeping your eyes on the road and you can always switch this technology off once you want to resume driving as normal.
Subaru advanced adaptive cruise control is also made to help prevent accidents on the road since it will slow your vehicle down or even bring it to a full stop if necessary as the car in front of you reduces speed. This can occur when highway driving transitions into bumper-to-bumper traffic or if there's a slow poke on the road.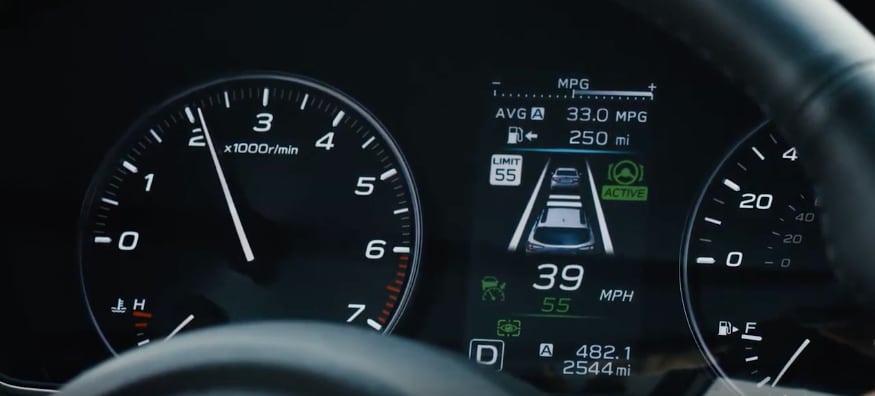 Lane Centering
There's also a lane centering feature built into this technology that helps keep you in the middle of your lane by detecting lane markings on the road, whether they're solid lines or ones spaced out. You'll know it's working since you'll feel the steering wheel actually moving by itself, making slight adjustments as you go to help when you're taking on curves.
Even though lane centering does help control your steering, you'll still be the dominant one in control while behind the wheel. Lane centering helps make your Subaru practically be a self-driving car or SUV in one lane of highway traffic.
What Subaru Models Offer Advanced Adaptive Cruise Control?
As of this blog post's publishing, advanced adaptive cruise control and the rest of the Subaru EyeSight driver-assistance feature suite either comes standard or is available as an upgrade on the following new vehicles:
Subaru Forester
Subaru Outback
Subaru Ascent
Subaru Crosstrek
Subaru Impreza
Subaru Legacy
Subaru WRX
See Our New Subaru Vehicles with Adaptive Cruise Control
To learn more about Subaru's adaptive cruise control system or any other EyeSight feature, please contact the team here at Ramsey Subaru today! We'll give you the information you need and you can even schedule a test drive of any model equipped with this advanced safety technology.